George Harrison originally disliked it; fans had long assumed it would never be released. But the "final" song by the Beatles, Now and Then, is being released at 2pm GMT, an unexpected last flourish for arguably the UK's greatest band.
"It's a big moment," says Dr Holly Tessler of the University of Liverpool, who specialises in the Beatles' history and legacy. "It's strange to think that a band that broke up more than 50 years ago is telling you that this is our last song … in a way, Paul and Ringo, who are both in their 80s, are drawing a line. It's a very sweet moment I suspect for almost all Beatles fans; it feels like an ending. So I do think it's significant."
The song features musical contributions from all four members of the group including guitar recorded by the late George Harrison in 1995, and vocals by John Lennon drawn from the song's original late-70s demo. It was written and sung by Lennon at his home in New York City's Dakota building, where he was murdered in 1980.
Then, in 1994, Yoko Ono, Lennon's widow, handed the demo to Paul McCartney, in a cassette labelled "For Paul". It also contained vocals from Lennon for the tracks Free As a Bird and Real Love, which were worked into completed songs by McCartney, Harrison and Ringo Starr, and released in 1995 as part of the Beatles' multimedia archive project Anthology. But Harrison's widow Olivia has said George "felt the technical issues with [Now and Then] were insurmountable and concluded that it was not possible to finish the track to a high enough standard". It has been shelved ever since.
Philip Norman, who has written biographies of Lennon, McCartney and Harrison as well as the acclaimed Shout! The True Story of the Beatles, explains: "Strangely enough it was always George Harrison who was at heads with Paul McCartney about releasing this song during the 1990s; George had previously said it was not good enough to release. Now with AI it has been brought technologically up to date."
That AI tech has been used to better isolate Lennon's voice – though McCartney has been at pains to confirm "nothing has been artificially or synthetically created. It's all real and we all play on it." The Lennon vocal was then folded into new parts for the song recorded by McCartney and Starr, and guitar lines recorded by Harrison in 1995, plus a new string arrangement.
Olivia Harrison said George "would have wholeheartedly joined Paul and Ringo in completing the recording of Now and Then". McCartney has called the project "quite emotional", adding: "In 2023, to still be working on Beatles music, and about to release a new song the public haven't heard, I think it's an exciting thing."
Norman calls the release "a huge event", but believes that despite the benefits of AI technology for voice and quality enhancement, Now and Then won't capture the energy and sense of unity that can be heard in other Beatles songs. "They really had the 'group mind', which psychologists talk about; they artistically coexisted as an organism together. I don't think it will capture that."
He hasn't heard it, but believes Now and Then, originally written alone by Lennon, will therefore deviate from the traditional Beatles sound. "John Lennon wasn't normally a lead vocalist – they were always very unified as a band," he says. "It was the greatest quality they had, and it's what made the breakup so tragic. They had the choral male sound, and that was unusual before the Beatles came together. And then suddenly everyone started copying that."
Norman says Now and Then "is really a reminder of John's almost-isolation. He was talking to Yoko Ono saying 'why are people covering Paul's songs more than my songs'. His legacy is secure, but he was a very insecure person."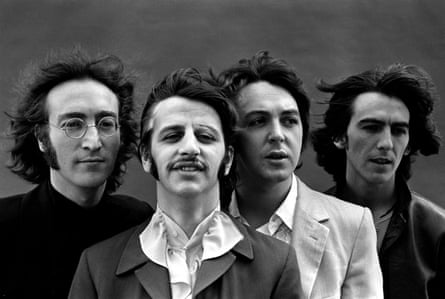 Tessler predicts that the release of Now and Then also has the potential to change the way the entire band's legacy is viewed, and how they are understood culturally. "Anyone who's 53 and under has lived in a world where there's no Beatles at all," she says. "When they broke up in 1970 it wasn't particularly amicable. What I think this does is give them a chance to soften this breakup and make it more poignant. A natural ending – rather than it being four young angry men saying they don't want to work together any more.
"This is an enduring friendship that's run the course of a lifetime. You can't erase history but it will give us a different understanding of the Beatles, who are still working together in some form from the 1960s through to 2023."
Visual artist Ed Ruscha has created the artwork for the single, while the music video to accompany the track is being helmed by Lord of the Rings and The Hobbit director Peter Jackson, who also directed the eight-hour Beatles documentary Get Back in 2021 – the film used the same AI technology to pick apart recordings of songs for their final two albums, Abbey Road and Let It Be.
The video is set to feature previously unseen footage of the band, given to Jackson by Olivia Harrison, Lennon's son Sean and Pete Best, the band's original drummer who left in 1962. Best, Jackson said, provided "a few precious seconds of the Beatles performing in their leather suits, the earliest known film of the Beatles and never seen before".
A separate 12-minute making-of film about the new song, Now and Then – The Last Beatles Song, is available on YouTube, and physical versions of Now and Then (on 12-inch and seven-inch vinyl, cassette and CD) are available to pre-order before going on sale on Friday. There will also be expanded and newly mixed versions of the compilations 1962-1966 and 1967-1970 (known as the Red and Blue albums) released on 10 November.