The previous Canyon Grail made a hell of a splash in the gravel scene with its frankly bonkers-looking hoverbar. Whether it worked as intended or not it got the people talking, and it did make it into our list of the best gravel bikes, but for the latest iteration of its gravel race bike (alongside the Grizl, a more adventure-oriented machine) Canyon has returned to a relatively normal cockpit. 
We've already seen this new Grail in action as far back as Unbound, under Peter Stetina, and most recently under Kasia Niewiadoma when she won the UCI Gravel World Championship. Under the radar perhaps, but it's also been ridden to victory already at Unbound 100 and 200, two national championships, and a whole host of other big-ticket gravel races by Canyon-sponsored athletes. 
There's a fair bit to unpack, not least the redesigned front end, so let's dive into what's changed, what's new, and how much you can expect to fork out if you want to throw your leg over one.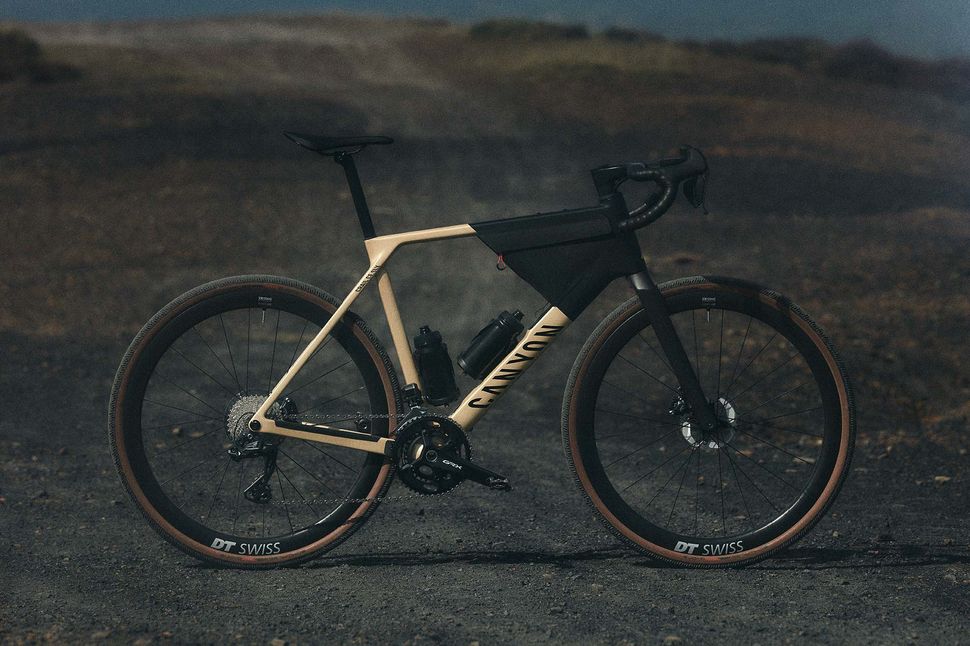 No more Hoverbar
Let's start with the cockpit, as the demise of the Hoverbar, truly a Marmite piece of innovation, is what most people are going to notice straight out of the gate. Given as the Grail has become even more race-focused, with the introduction of a CFR tier (more on that later), it seems that having two bars is too much for aerodynamicists for any performance gains that the additional comfort may have offered. 
The New Grail instead is kitted out with the CP0039 Double Drop Bar, with a downward sloping aspect away from the stem. The CP0039 features what Canyon call the 'Gear Groove', a central channel in the bars chat that can be blanked out if you do not want to fit any accessories, but can also be fitted with a computer mount, an out-front computer mount, or a very interesting looking set of adjustable aero bar extensions. Yes, Unbound has banned aero bars, but that doesn't stop them from being useful in other races or FKT attempts. The main support of the extensions also features a place to pop your computer, and some snack storage too.
Storage solutions, bells, and whistles
Yes, the Grizl is more of an adventure bike, and the Grail is the race model, but for races like Unbound XL, or for mortals who just want more snacks, the desire for storage is there in the market, even for racy bikes. The new Grail comes with a similar in-frame storage system of pouches as the new Endurace, but this time in the downtube rather than the top tube, along with a removable partial frame bag that uses the Fidlock system to avoid ugly (and un-aero) straps. The bag does cover up the frame storage port to some degree, so you'd have to remove the frame bag to access it fully.
Unsurprisingly, as it resembles a fairing, the semi-integrated nature of the partial frame bag saves you 1.5 watts. Another nod to aerodynamics, to go with the aero bar compatibility, is the lack of bottle bosses on the forks. Having anything that wide will kill your frontal area, but Canyon appears to have at least realised that consumers do seem to like taking racy gravel bikes on longer, more heavily laden trips, and has created a set of fork sleeves that add three bosses up front should you so desire them, for bottle cages, or cargo cages for hauling dry bags around.
While the forks are boss-free, the top tube has a set for a bento box, and the downtube has a third set underneath as is becoming increasingly standard. Interestingly, there is also a dedicated mudguard (fender) set; a further nod to utility. As someone who likes running full mudguards on a gravel bike, this is a great thing to see.
The Seatpost, while not the popular twin-leaf model, does claim to be far more compliant than that of the Canyon Ultimate and features the same rear light integration. (a feature I very much liked on the Ultimate)
A new CFR-tier
The outgoing Grail only cae in the CF SL and SLX tiers, but given its stature as the racy number, it's no real surprise to see Canyon choosing to add a higher CFR tier to the lineup to match the Aeroad and Ultimate.
The CFR tier comes with all the bells and whistles (Gear Groove in the bars, downtube storage, frame bag system) and is 118g lighter (for the frameset) and 10% stiffer. It can be purchased with either Shimano GRX Di2 (€6,999) or a power meter equipped Sram Red AXS build. (€7,999) You can even pay €10,000 to get your gravelly paws on one of 70 models made with the splattery 'GRVL DZZL' paint job – Another victim of the gravel industry's near-critical shortage of vowels.
The now mid-tier SLX still has the same cockpit and frame bag potential, but in a lower-spec layup, with a Shimano Di2 build setting you back €4,999 and a Sram Force €5,299. This Force-equipped model is the only one in the whole lineup to not ship with DT Swiss wheels, instead coming with Zipp 303 Firecrests. 
Finally, we have the base-level CF, which ditches the downtube storage in the frame and swaps the cockpit for a simpler model with no modular accessory potential. It does still come with the ability to fit the frame bag. Two GRX models are available (a 1x and a 2x), along with a Sram Rival setup, starting at €2,699.
Global pricing will be added as and when it becomes available.