In the upcoming Star Wars: Dark Droids – D-Squad #2, the franchise is making sure fans don't forget that a surprising R-rated theory is completely accurate. Star Wars is generally known as family-friendly fare, but the franchise does have one foolproof way of slipping adult language into the galaxy far, far away.
In a preview of Marc Guggenheim, Salvador Espin, Israel Silva, and Joe Sabino's Star Wars: Dark Droids – D-Squad #2, fans are reminded that – as Star Wars adherents have long theorized – R2-D2's beeps and whistles are covering a tirade of foul-mouthed abuse. As R2-D2 sets out to free C-3PO from the Scourge, he turns to an unlikely ally for help…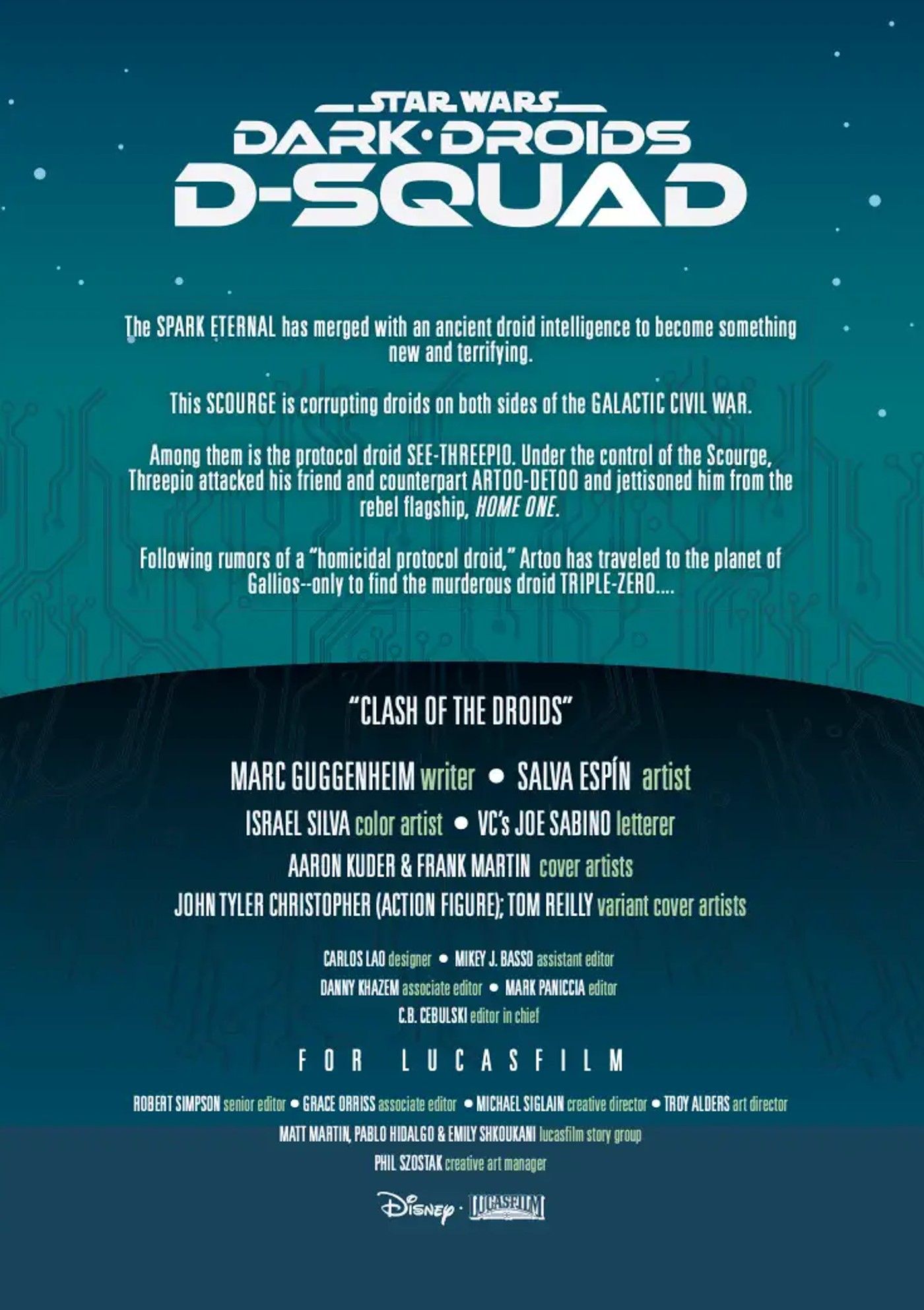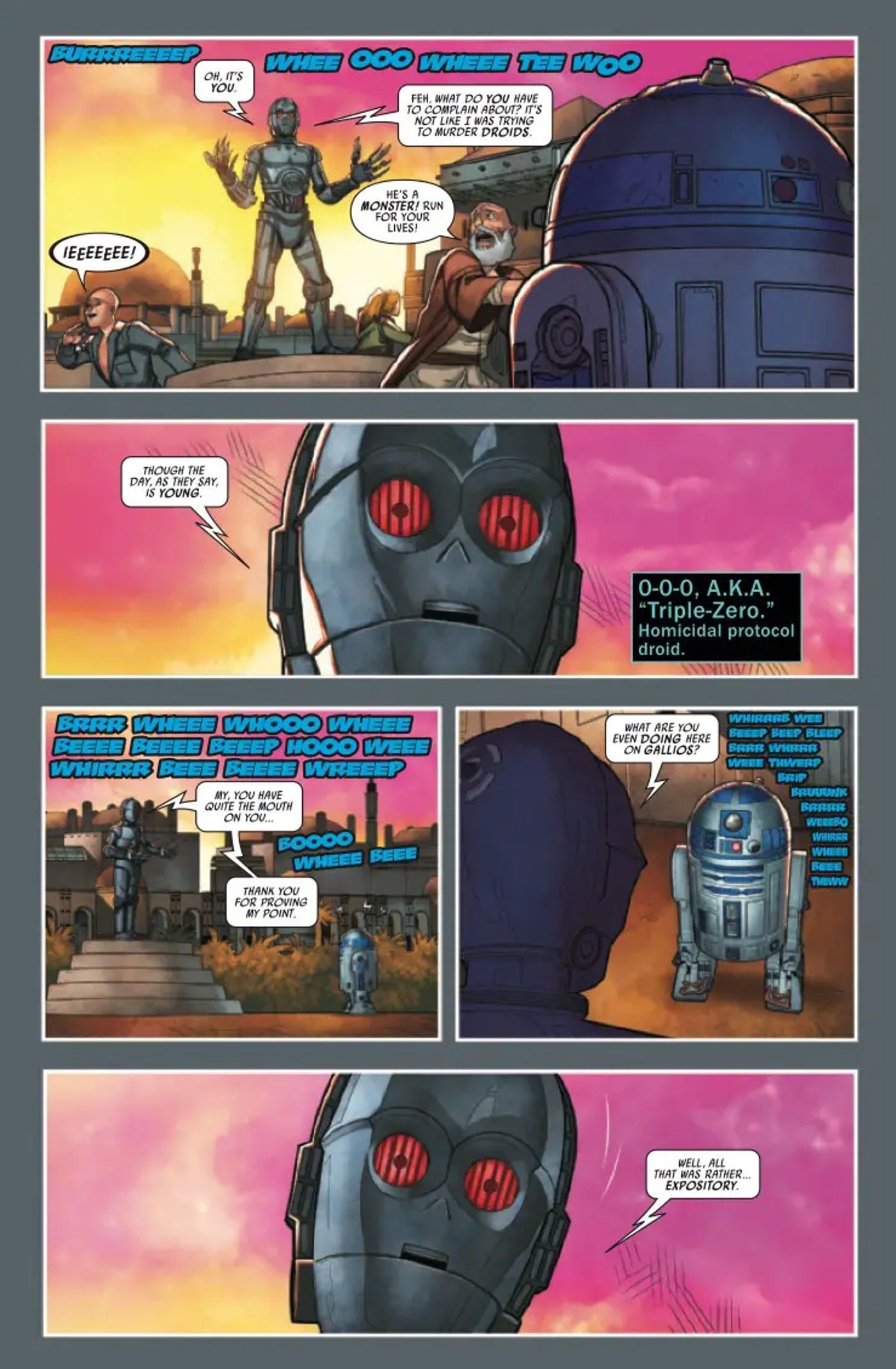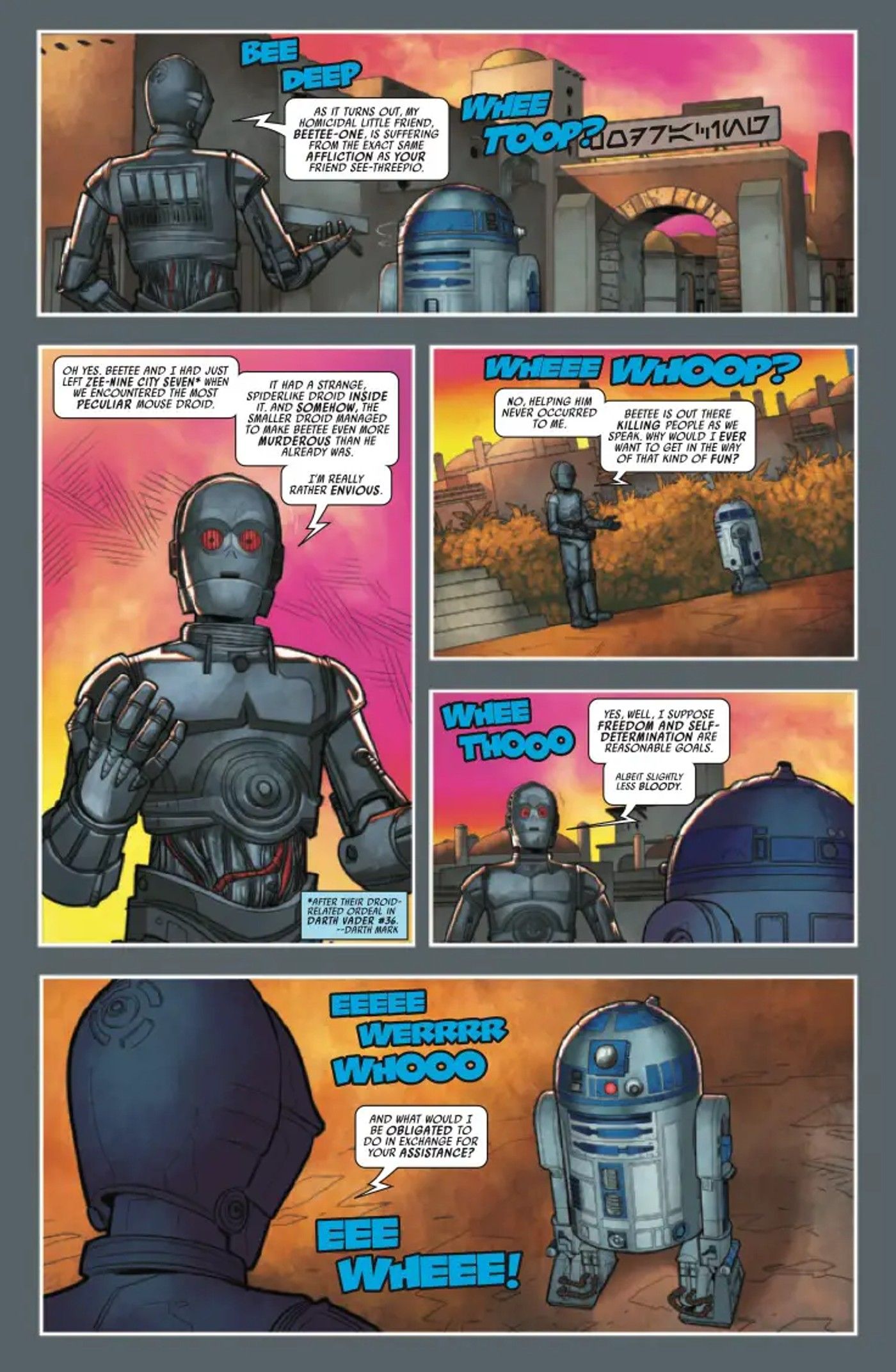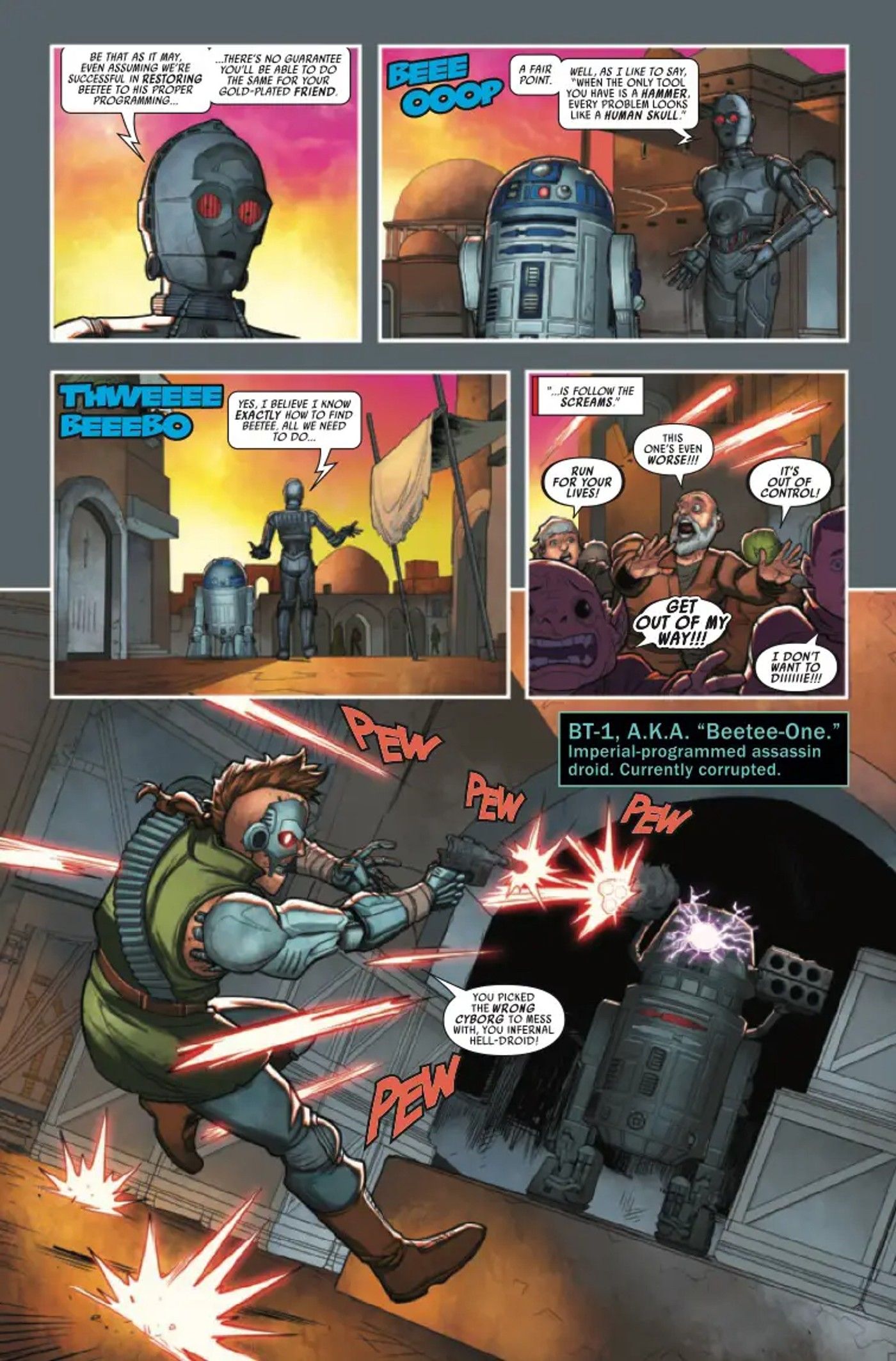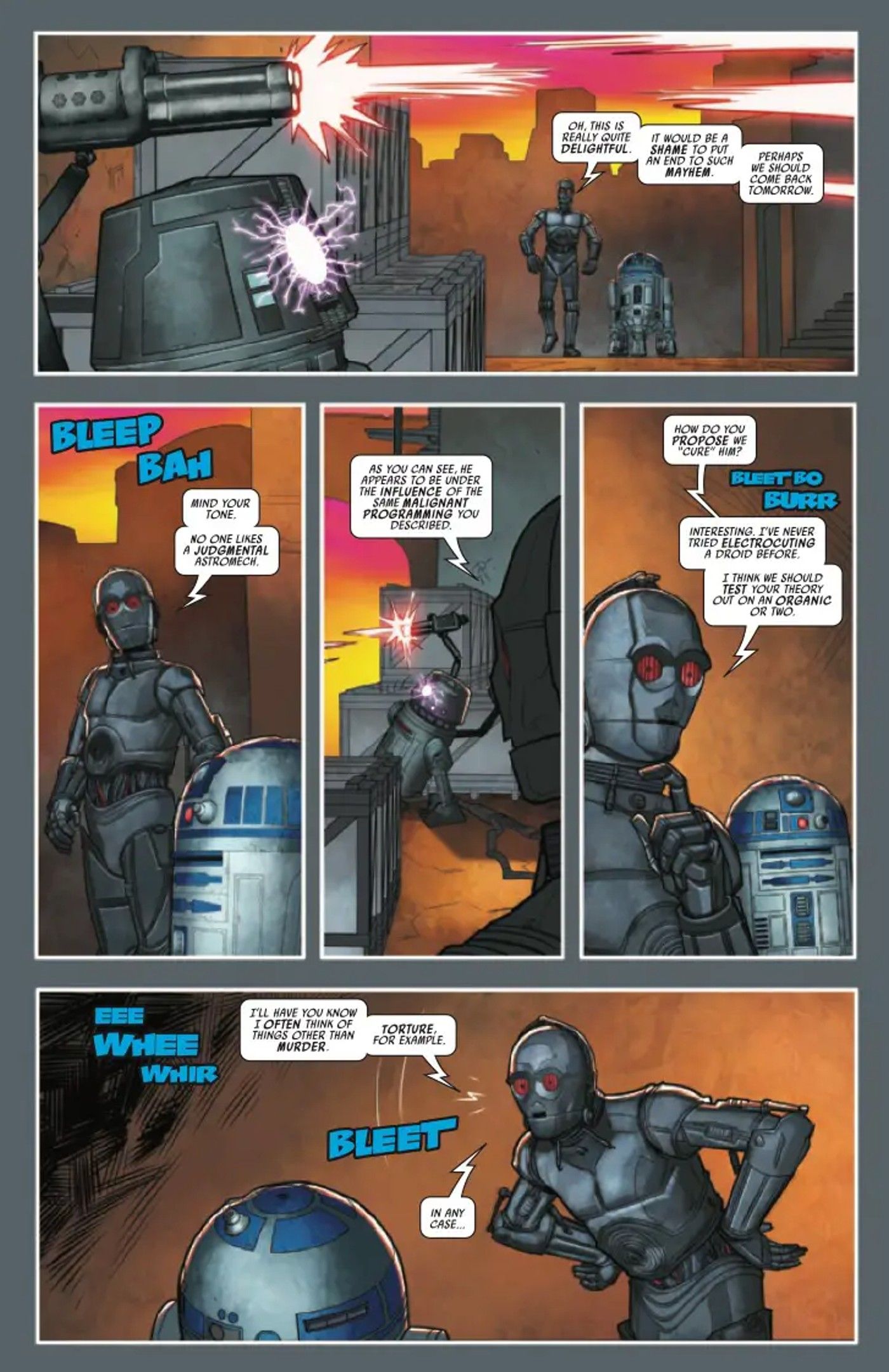 The issue sees R2-D2 reach out to 0-0-0 – a corrupted droid obsessed with killing. Unfortunately, the torture-obsessed villain is now essential to R2-D2's plan to save C-3PO.
Related: "I Could Crush Him Like an Egg": C-3PO Reveals the Horrifying Way He'd Kill Luke Skywalker
R2-D2 Is Constantly Swearing in Star Wars Canon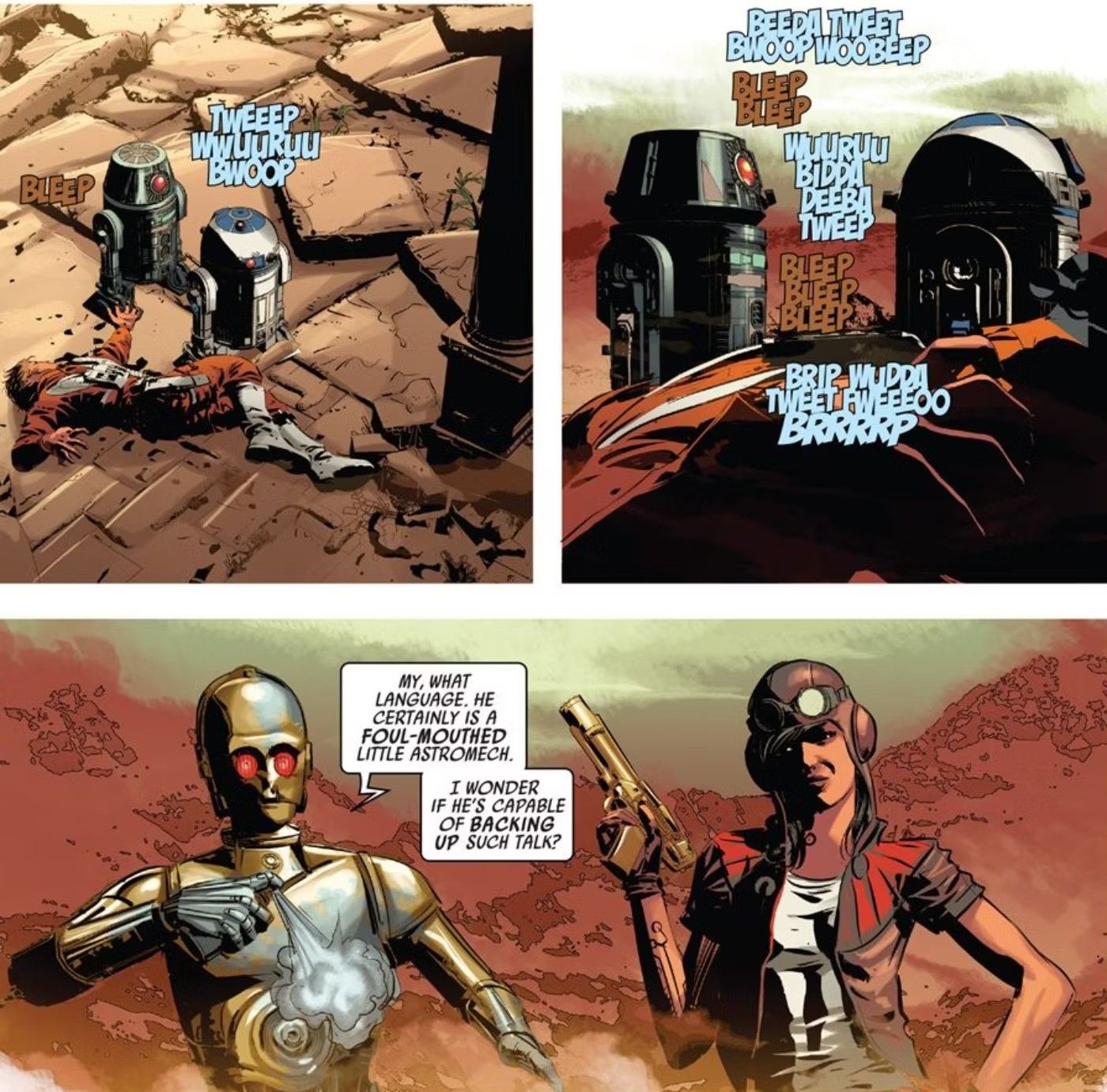 In the Star Wars movies, R2-D2 'speaks' often, but he does so in a chirping machine language that the viewer doesn't understand. Because of this – and various tie-in references to R2-D2's fiery disposition – fans began to speculate that the shortest member of the Rebellion was constantly cursing up a storm. Marvel's Star Wars comics have taken pains to confirm this is actually accurate, and that R2-D2 greets enemies with a tirade of cursing. Here, 0-0-0 is the target, muttering "My, you have quite the mouth on you…" However, this is something the droid should remember from Star Wars #13 by Jason Aaron and Mike Deodato, where R2-D2 cursed out 0-0-0's ally BT-1, causing 0-0-0 to exclaim, "He certainly is a foul-mouthed little astromech." As a reminder, R2-D2's language is shocking to a droid who spends his time torturing and murdering as many people as possible.
While it may be surprising that Star Wars' adorable astromech is constantly cursing, it actually makes sense. Despite his size and cute 'voice,' R2-D2 has been at the heart of galactic conflict for multiple generations, helping to topple Emperor Palpatine, Supreme Leader Snoke, and Kylo Ren. He's a freedom fighter with a long history of besting far more powerful foes, and counts the last living Jedi Master as perhaps his closest friend. If R2-D2 were humanoid, he'd be respected as a grizzled veteran of countless galactic conflicts – closer to being Yoda than the Rebellion's mascot – and so it makes sense that, confronted by despicable enemies, his language immediately becomes colorful.
The Scourge Makes Strange Bedfellows
However, while R2-D2 may hate 0-0-0 with a passion, their interests currently align. With the viral consciousness known as the Scourge having taken over both C-3PO and BT-1, R2-D2 must work with the droid scum of the galaxy to stand a chance at saving his friend. However, Star Wars confirms that he's not happy about it, and that he's not afraid to let everyone around him know it with a stream of creative invectives that fans thankfully can't understand.
Star Wars: Dark Droids – D-Squad #2 is available from Marvel Comics October 25.